Revised 22 August 2017
INTRODUCTION
For several months last year I was trying out various tiling window managers and here I offer my assessment of the ones I've used most. There's more about many of them, including configuration files, elsewhere in this blog (see the tags list).
See also i3 and Spectrwm compared.
SUMMARY
My outright favourite is
Spectrwm
because I find that it offers all the features I want without making things over-complicated. Configuration via the text file is easy and the commands quickly become intuitive and automatic.
Dwm
is almost as good as spectrwm but lacks some features that I want.
i3
seems to be a popular WM and is better known than Spectrwm, I like it quite a lot but I find Spectrwm more intuitive to use.
Xmonad
is an attractive WM but is irretrievably let down by requiring Haskell to configure it.
THE WINDOW MANAGERS IN MORE DETAIL
1. Spectrwm
This is currently my favourite. It used to be called scrotwm and this rather unfortunate and juvenile-sounding name put some people off. When I tried it some time ago it seemed a little buggy but that is much better now. Configuration by a plain text file is simple. I prefer the lack of window titles at the top and I find spectrwm more intuitive to use than i3. The default window layout is similar to those of dwm and xmonad; it is easy to change the arrangement. It is also easy to switch to a different workspace (desktop) with Mod+Arrow, which I particularly like. The bar at the bottom of the screen is toggled on and off with Mod+B, another good feature. I should say that spectrwm is the most flexible and intuitive WM that I've tried. Currently I'm using it as my default window manager.
Download Spectrwm here (updated link)
.
Here are some screenshots. (Actually, I work fullscreen much of the time, with a browser on one workspace, mutt on another, and so on.)
A screen with three windows (left = master)—vertical split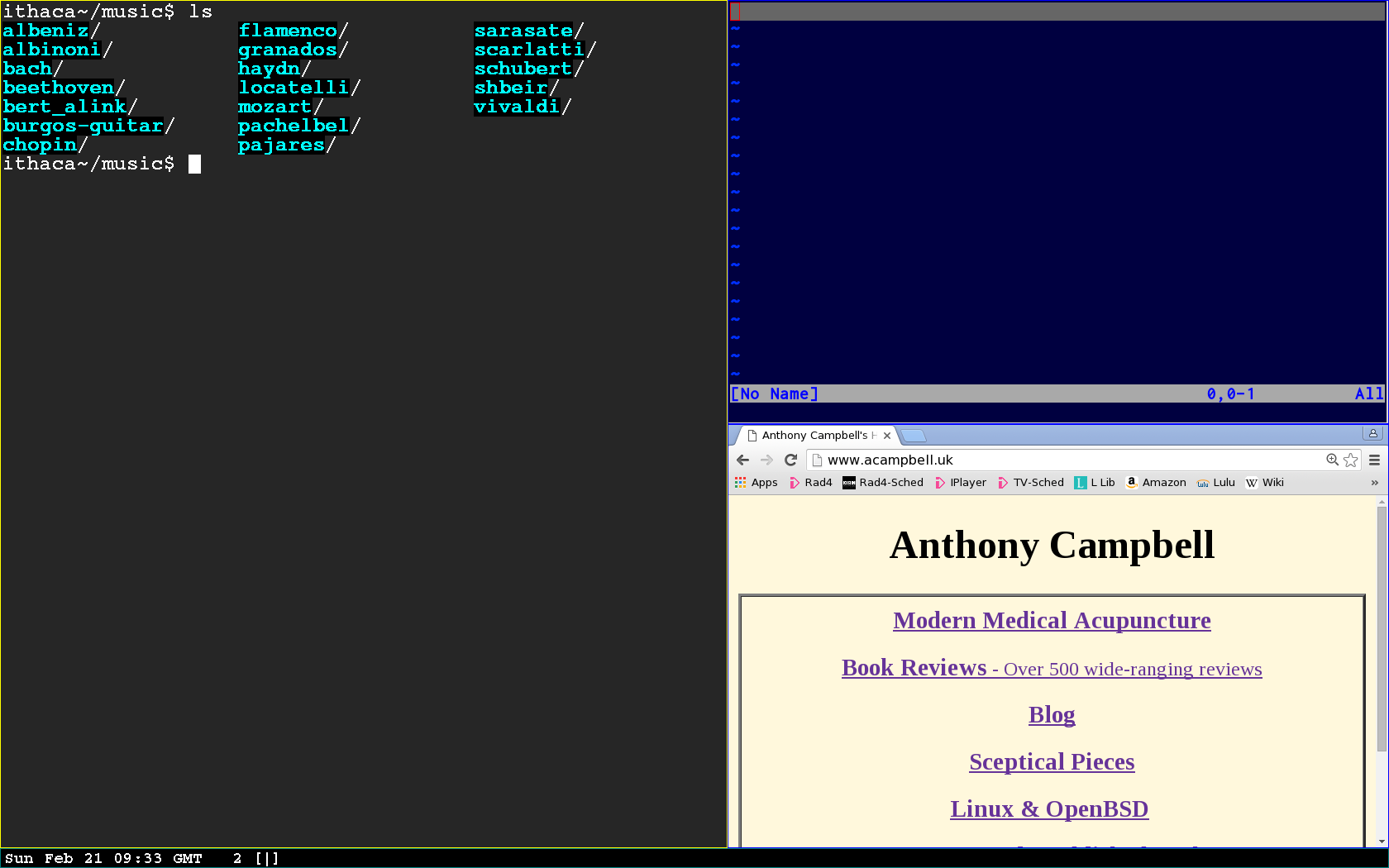 Change master window (Mod + Return)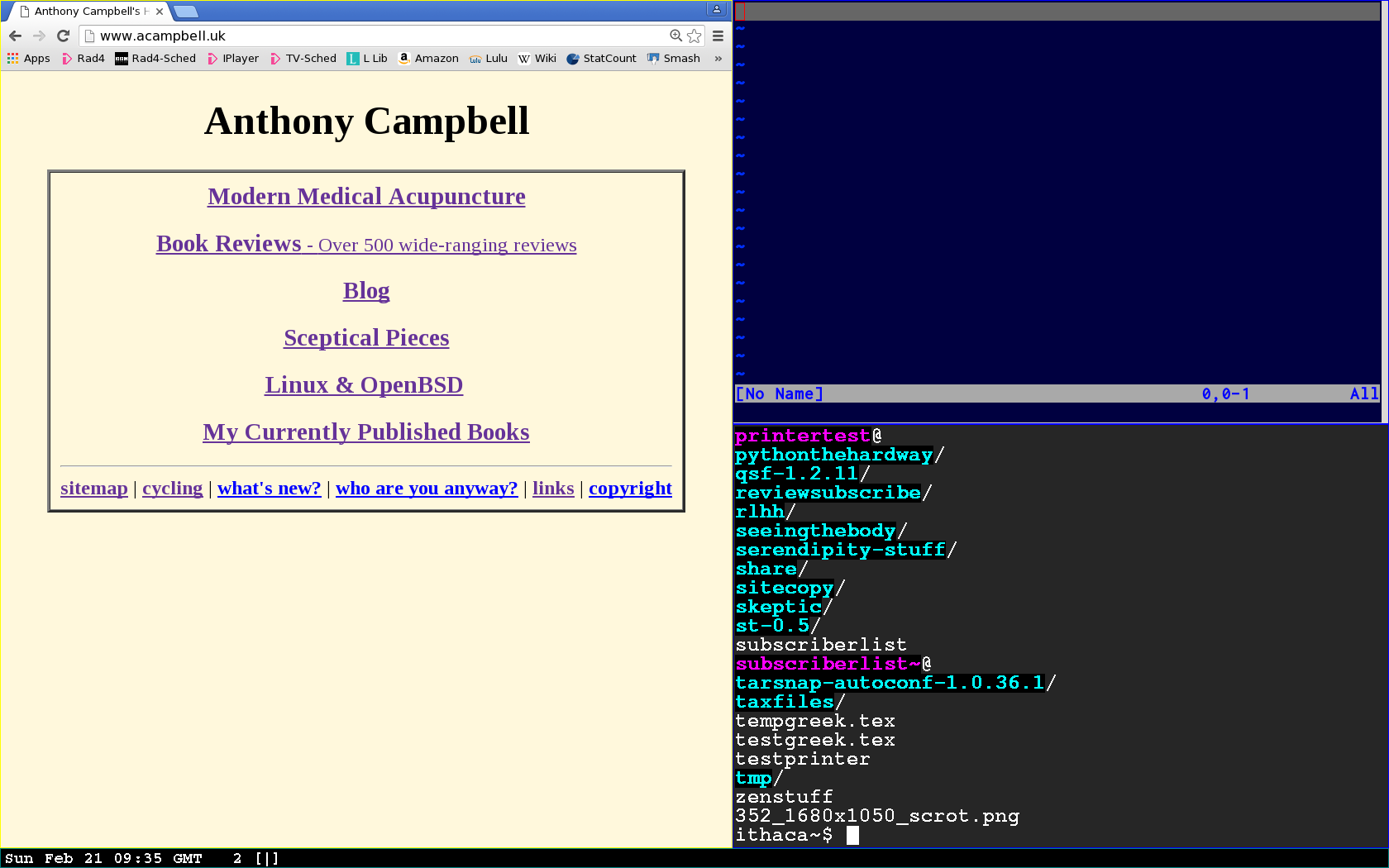 Enlarge master window (Mod + L)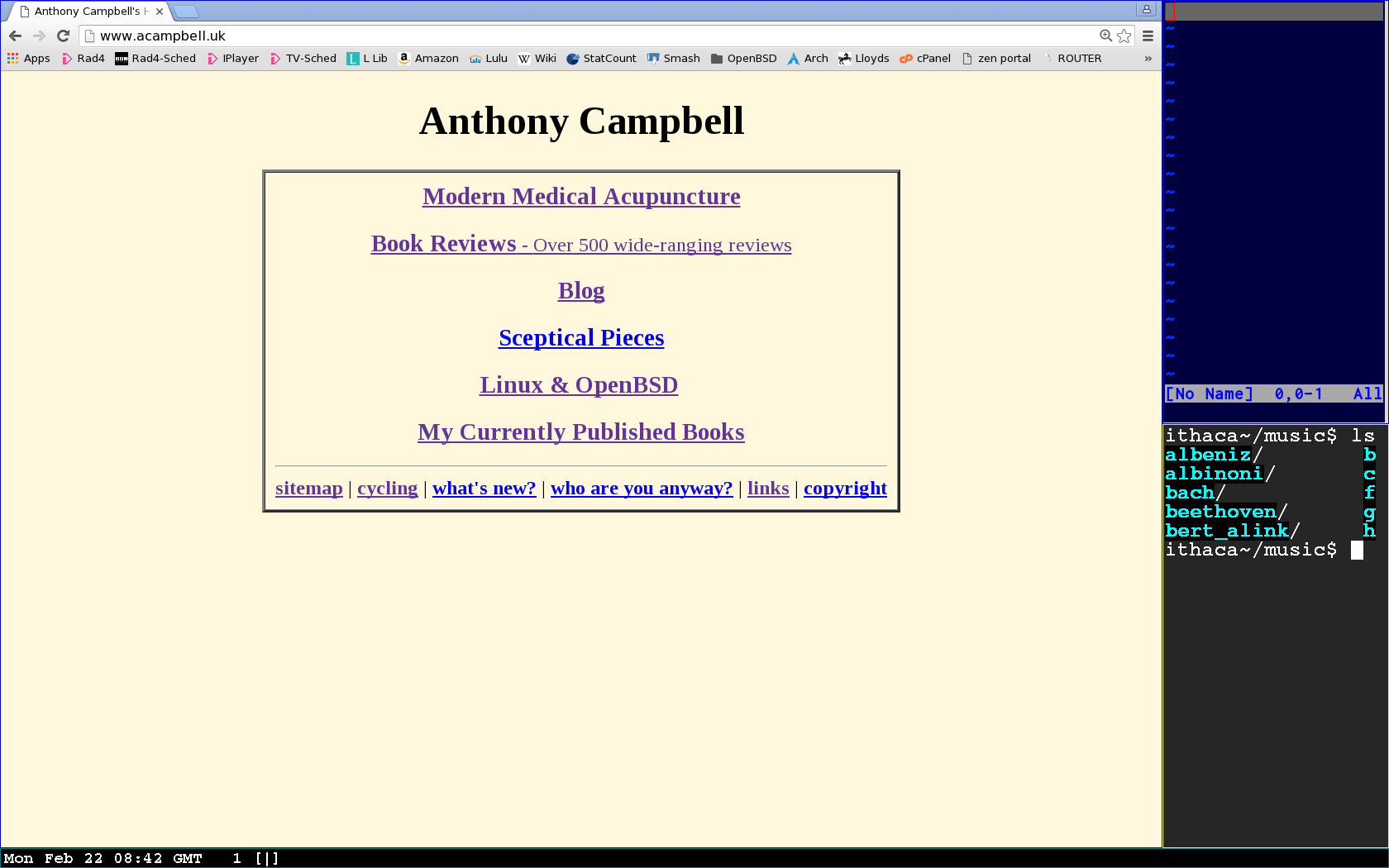 Change to horizontal split (Mod + Space)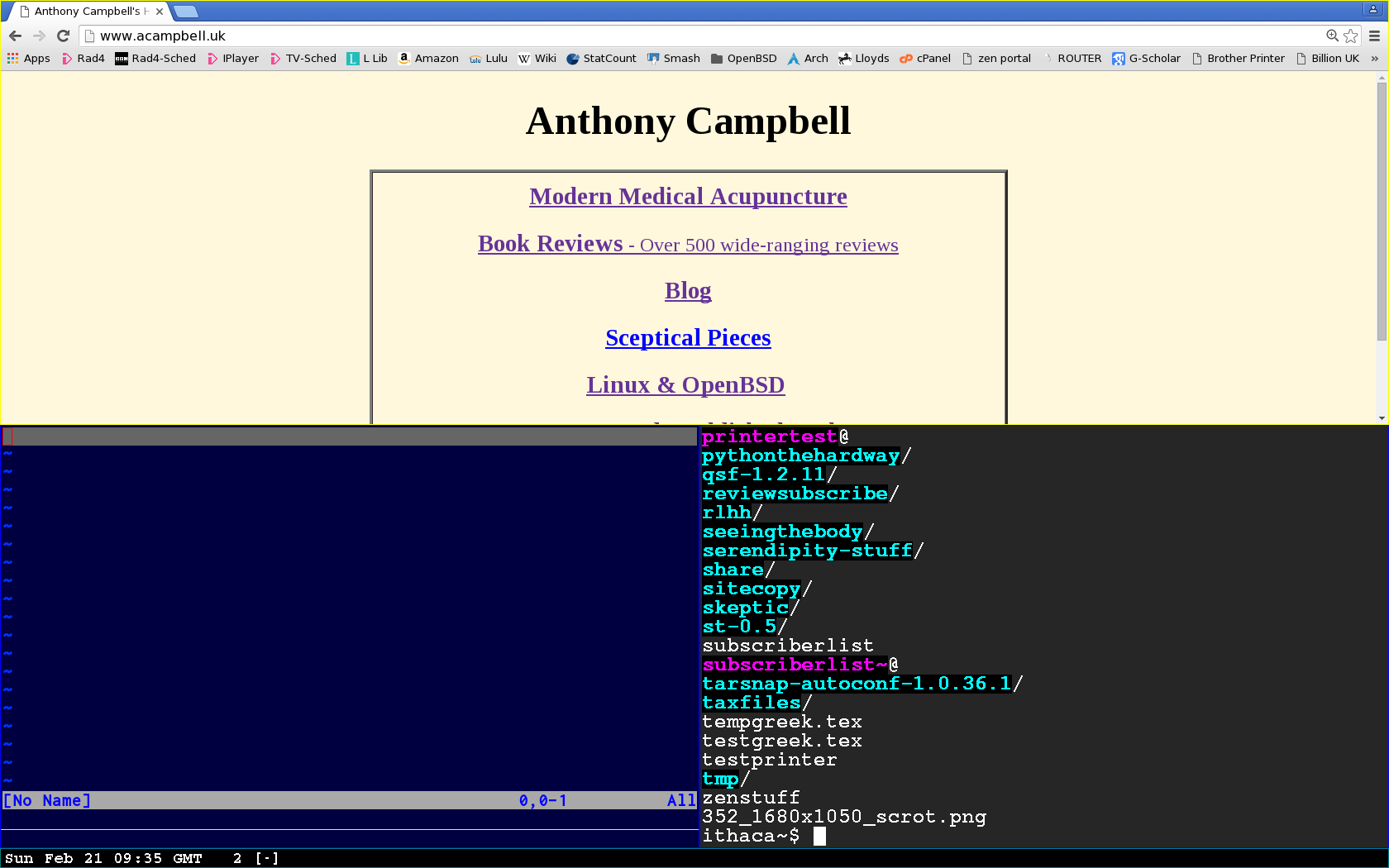 Make a window fullscreen.(Mod + E)
Switch to Workspace 2 from Workspace 1 (Mod +2 or Mod + R. arrow)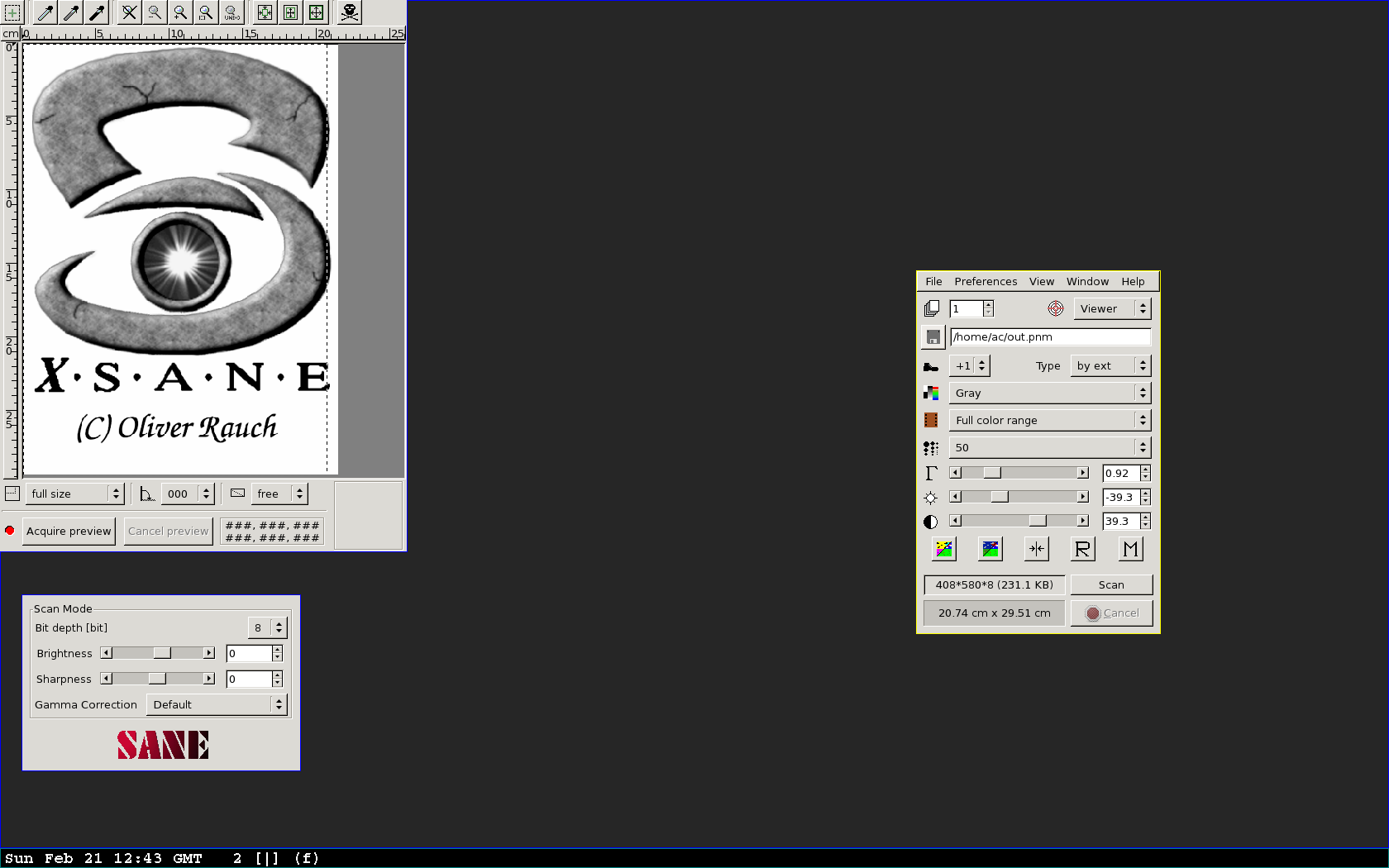 Note: the xsane windows are floating (set via Quirk in ~/.spectrwm.conf).
2. Dwm
Dwm is the forerunner from which many other tiling WMs forked. There is still a lot going for it: it's simple and functional and easy to learn. Configuration is via C, but don't be put off; it's easier than it looks even if you don't know C (I don't). If you are not willing to embark on learning Haskell, dwm would be an attractive alternative.
3. I3
I liked i3 quite a lot and used it for a time. Configuration is simple since it is done in plain text. The default tiled layout has the windows arranged in columns across the screen which I don't much care for. But I mostly work in stacked mode, and i3 does well like this. The only problem is that if you have a number of windows open their titles list takes up a lot of space at the top of the screen in stacked mode. Admittedly you can fix this by going into full-screen mode, although you must exit that to switch to a different window. But while I liked i3, I found that everything I wanted to do with it could also be done in spectrwm and usually more easily and intuitively.
4. Xmonad
T
his has a large user base and a helpful mailing list. It has many of the features I want but is let down by its being written in Haskell, which makes any configuration beyond the most basic a major undertaking requiring hours of research on the internet. There is also a large overhead in terms of disk space required to house the libraries needed for said configuration. For these reasons Xmonad loses out to its competitors, at least for me.